General Information
Venue
Bürgerhaus Wilhelmsburg
Mengestraße 20
21107 Hamburg
Germany
Phone: +49 (0)40-75 20 17-0
Fax: +49 (0)40-75 20 17-10
E-Mail: info(at)buewi.de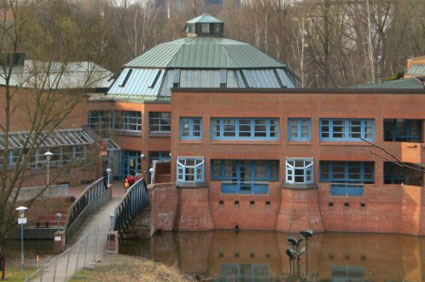 Travel Information
Arriving at Hamburg Airport (Fuhlsbüttel):
The airport is directly connected to Hamburgs public transport (HVV). The metro line S1 (towards Blankenese/Wedel) departs every ten minutes from the airport to Hamburg Hauptbahnhof.
Arriving at Hamburg Hauptbahnhof (main station):
From here take metro line S3 (towards Neugraben / Stade oder Buxtehude) or S31 (towards Harburg Rathaus / Neugraben) to Wilhelmsburg Station. Travel time from Hauptbahnhof to Wilhelmsburg is approximately ten minutes. Arriving at Wilhelmsburg please take Bus M13 (towards Veddel) or Bus 154 (towards Bahnhof Harburg) and get off at Wilhelmsburg Rathaus (three stops).
You can also go by foot from Wilhelmsburg Station to Bürgerhaus Wilhelmsburg. Coming out of the metro station, take the bridge that crosses the rails and go straight on for about 1 kilometer. It is a 10 minute walk.
Accomodation
For hotel recommendations and reservation please use the following booking tool.
Conference Dinner on Tuesday, 24 November, 19:00h
Blockbräu
Bei den St. Pauli Landungsbrücken 3
20359 Hamburg
Phone: +49 (0)40 - 44 40 500 114
http://block-braeu.de
Please consider that the conference dinner is based on individual payment.
Please note: The conference dinner is sold out.
Directions
The Blockbräu is located directly at the Elbe river, less than 5 minutes from the public transport station Landungsbrücken. You can reach the station using the metro lines S1, S3 or U3. There is also sufficient parking space alongside the Landungsbrücken (jetties) and in the adjoining streets.
Hamburg City Information

Christmas markets
There is a variety of Christmas markets to be visited in Hamburg. These are the ZBW's favourites: